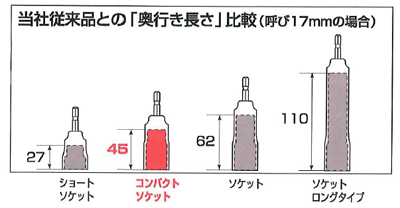 "Length 45mm" is a  New standard.
●Higher efficiency by the length.
●20% lighter weight.  Long-last battery.
●Impact absorbing and lightweight Streamlined Original shape.
●Hexagon shank
●Hexagon surface socket to not damage bolt and nut.
●Deep socket for quick turning double nut and drop prevention.
●45 mm length socket fit perfectly to each bolts.
● 100% made in japan. only of selected materials.
●Please see this page  for information of Hunger Type and the other products.