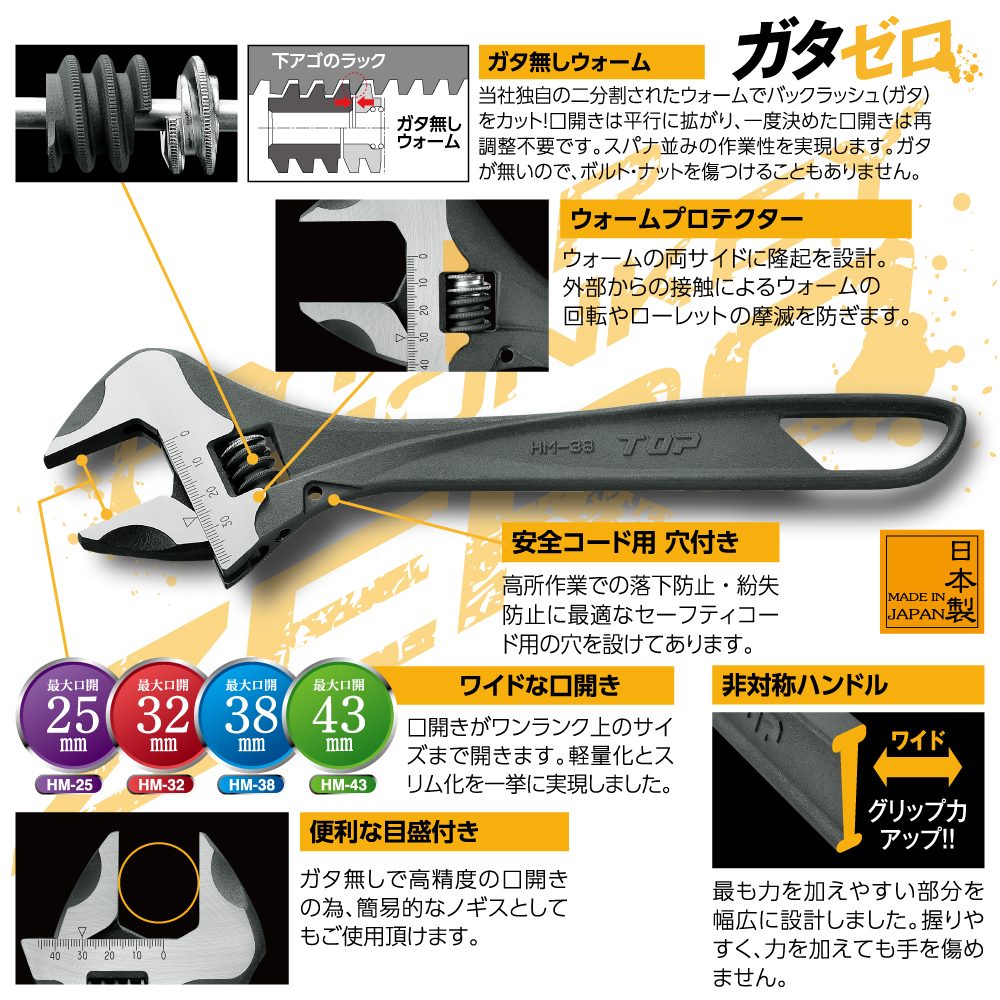 | Item No. | Price(¥) | Dimension(mm) | Weight(g) | Torque(N・m) | inner box | JAN code |
| --- | --- | --- | --- | --- | --- | --- |
| HM-25 | 4,300 | 0~25 | 135 | 163.9 | 6 | 131508 |
| HM-32 | 5,100 | 0~32 | 255 | 305.1 | 6 | 131515 |
| HM-38 | 6,850 | 0~38 | 410 | 508.5 | 6 | 131522 |
| HM-43 | 9,500 | 0~43 | 655 | 864.4 | 6 | 131539 |
| Item No. | L (mm) | D (mm) | T1 (mm) | T2 (mm) | t (mm) |
| --- | --- | --- | --- | --- | --- |
| HM-25 | 165 | 52 | 6 | 10.5 | 7.6 |
| HM-32 | 216 | 63 | 7.5 | 13 | 9.7 |
| HM-38 | 263 | 76 | 9 | 15.4 | 10.5 |
| HM-43 | 317 | 92 | 10 | 18.3 | 11.2 |
※JAN code is shown in 6 digits exclude maker code (497518)
the price is for 1 piece.
Item no. HM-25 HM-32 HM-38 HM-43

Use
For vehicle production. For vehicle maintenance.
Suitable for machine production/maintenance as well.
Also for electrical installation, construction work at height.
Caution
Set proper width for the size of bolt/nut.
Do not use with extended handle by inserting pipe.
Do not hit.
Usage is strictly limited for the purpose of hand tools.