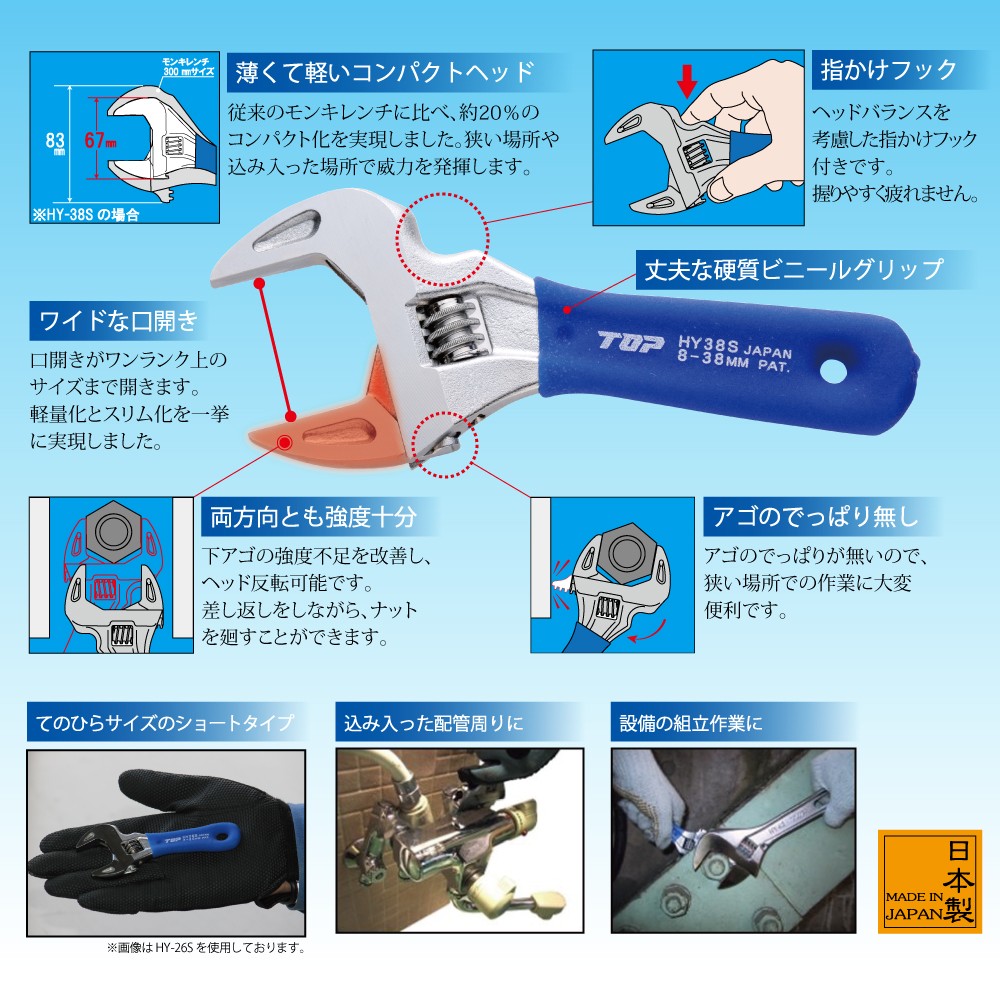 Item No.
Price
(¥)
Opening Dimension
(mm)
W
(g)
Guaranteed Torque
(N・m)
Package(mm)
H×W
Inner Box
JANcode
HY-26S
3,400
7~26
100
163.9
170×70
6
151056
HY-30S
3,650
8~30
160
305.1
200×83
6
151063
HY-38S
4,650
8~38
215
305.1
210×92
6
151070
HY-49S
5,700
12~49
450
508.5
250×110
6
150448
Item No.
L
(mm)
D
(mm)
T1
(mm)
T2
(mm)
t
(mm)
HY-26S
117
49.5
5.5
10
7.5
HY-30S
142
59
6
12
8
HY-38S
157
67
6.5
13
8.7
HY-49S
184
91
9
16.5
11.2
※JAN Codes are shown with 6 digital numbers which removed maker code (4975180).
※The price is for each unit.
Item No.  HY-26S HY-30S HY-38S HY-49S

Use
Suitable for Pipework for such as Plumber, Gas, Air Conditioner.
Able to use this item in a narrow space.
Please use this item as maintenance tool for various occasion.
Caution
The Jaw opens till the end. Compact model.
Please adjust to width across flats of bolt/nut.
Do not install additional pipe.
Do not use as a hammer.
The plastic grip doesn't have Insulation function. Please do not use while the electrics are on.